After I left college in 2002 I got my first Arborist job in North Yorkshire, where I grew up. I remember that the first guy I worked with had been bought lots of new gear by the boss because he had mentioned to him that he was interested in competing that year. All of the other guys at the company just had old 3 strand ropes and lanyards. At that point I had never even heard, let alone thought about competing as I was so new to climbing. I only worked for that company for a short period of time before landing a job at a company much closer to home.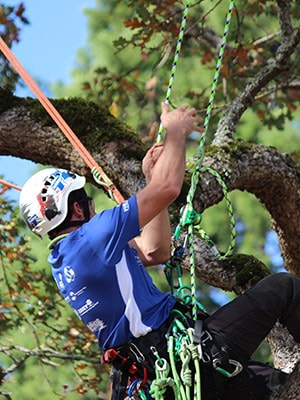 For the next few years I was pretty much the only climber at the few companies I worked for. This was a huge benefit to me for my arborist career as I got to climb every day, I was basically thrown in at the deep end. The down side of not having other climbers around was the lack of encouragement, discussions about new techniques, the progression of my climbing style and the involvement in Arborist events such as climbing competitions. I remember thinking about entering into the UK tree climbing competitions but I never did anything about it, and never looked to find out when or where a competition was being held.
After taking some time away from the industry and going travelling, I decided to move to the west coast of Canada. I had been working for a tree company for 8 months or so and the bosses told us all about the regional tree climbing comp that was coming up in case anyone was interested in competing or volunteering. At this point I had lost the motivation and passion for the job and I was just going through the motions. But when I heard about this local competition and recalling wanting to do them in the past, I decided to register. Once I had registered I thought that I should put a little work in and practice, mainly the footlock and the throwline as these were my weakest skills.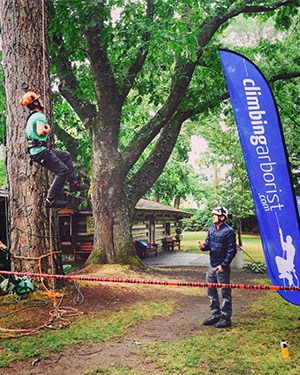 Having been climbing for 7 or so years in the industry I felt like I was a pretty solid climber with a well-rounded set of skills, but this knowledge was in no way enough to calm my nerves the morning of that first competition. It probably comes down to my competitive nature, some of that tree climber ego and not wanting to make a fool of myself. Also the fact that I knew none of the other competitors and it was my first competition didn't help. Little did I know, I would be placed in a group alongside Colin Bugg and Issac Reis, two very accomplished climbers with very different styles of climbing. I remember watching Colin in the aerial rescue event (one of his favourite events I think he'd agree); he set up a floating crotch system that enabled him to footlock up 25ft, then switch systems to a DdRT system while still benefitting from the high tie in point some 60ft up. This system is fairly common practice within tree climbing competitions but it absolutely blew me away because I'd never seen anything like it before. I was next to climb after Colin, I climbed on my prusik hitch with very little knowledge of the rules or scoring system and ended up timing out while descending.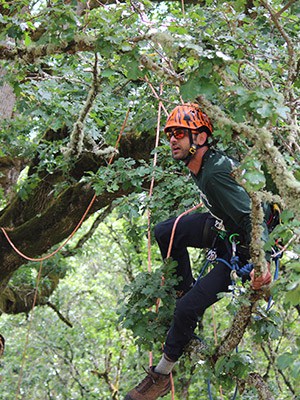 Next was the work climb which was the event that I was most excited about because I knew this would be my best event and I got to run around a tree ringing bells. The work climb was a huge learning experience for me as far as the rules and point scoring system were concerned. At that point I never connected the end of my lanyard to my harness, instead I would just let it hang and swing around while climbing, without knowing I was getting penalized for each station I climbed to. I had only ever seen one tree competition before and wasn't aware that the limb walk station I had seen was in the masters challenge and not the work climb, so when approaching the limb walk in my first work climb I redirected and dropped down from the limb above as I had seen before, only to be told once on the ground that I hadn't scored for that station because I had to start at the beginning of the limb and climb out to it that way (I'm sure they said this in the walk around but I must not have been paying attention).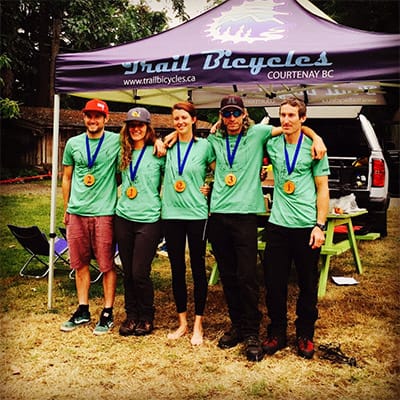 After the disappointment of my overall performance, I got to sit back, watch and take in the best climbers from around the region climb a huge Liriodendron (tulip tree).
The top three finalists in the competition were Rob Bundy, Colin Bugg and Ryan Murphy, each one of them pulled out different techniques and tricks, all of which I had never witnessed before.
After leaving the competition that weekend, I had already forgotten the disappointment of my average performance, I was just so excited to get back to work and practice some of the new systems I had seen. It was that following week that I realized that the spark had come back to me for tree climbing and I was so excited about the next competition which would come a few months later.
After experiencing this complete shift in my attitude to work and climbing, I then encouraged the other guys I worked with to sign up too, but I failed to convince them all.
A couple of years later, I started to see a pattern of tree climbers not wanting to compete for fear of looking silly, or not performing to the best of their ability. Finally when some of the guys did end up competing, I saw how much they enjoyed the experience and also how much they learnt through watching their peers compete.
In 2014 Mat Fernandez started working with me. He had been climbing for a couple of years and had a great attitude but only basic knowledge in regards to tree climbing systems and techniques. After working with Mat for a short time I realized how enthusiastic he was so I asked him if he had ever thought about entering a tree competition and he said that he hadn't really thought about it before. This is when I shared my experiences with him from the previous few years. I then proposed the idea of me training him for his first competition and documenting it on film along the way. He agreed and that is where the 'Mat Fernandez project' came from. After lots of training and competing in the BC and the PNW TCC (a 4 month period), Mat's climbing came on leaps and bounds. He now knows many more techniques and climbing systems, he is much more fluid in his climbing style and he implements the things his has learnt on a daily basis.
So, now you know how I got into the competition scene and my experiences with it, I would recommend and heavily encourage anyone with a slight interest in climbing to compete. Forget any thoughts you may have about making a fool of yourself, don't think about where you might finish, just sign up, read the rule book and score sheets, do a little practice (if you want), then when the day comes you will meet a great bunch of guys and girls with lots of knowledge who all love climbing, shiny equipment and most of all who just want to have fun climbing trees. You will come away with new friends, new connections, plenty of knowledge and maybe even a prize of some sort. 
Go on…… go and find out when your next local competition is happening. The only regret you'll have is not doing it.
You can watch the Mat Fernandez Project series and Film to see the story of Mat's training and competing.