Click an image to watch videos of various different types of tree work filmed out in the real world, featuring tree pruning and tree removals of varying difficulty and any other tree work projects we take on
Step Cut tutorial
Description
In this high quality video we describe in detail why and when you would want or need to make a step cut. We discuss the subtle changes you can make to your cut as the diameter of wood gets larger and we give you some clear and concise examples. All of this information is aimed as a guide to help you not waste time and energy making multiple cuts if you can get it right the first time. Video filmed and edited by InTree Media: bit.ly/InTreeWebsite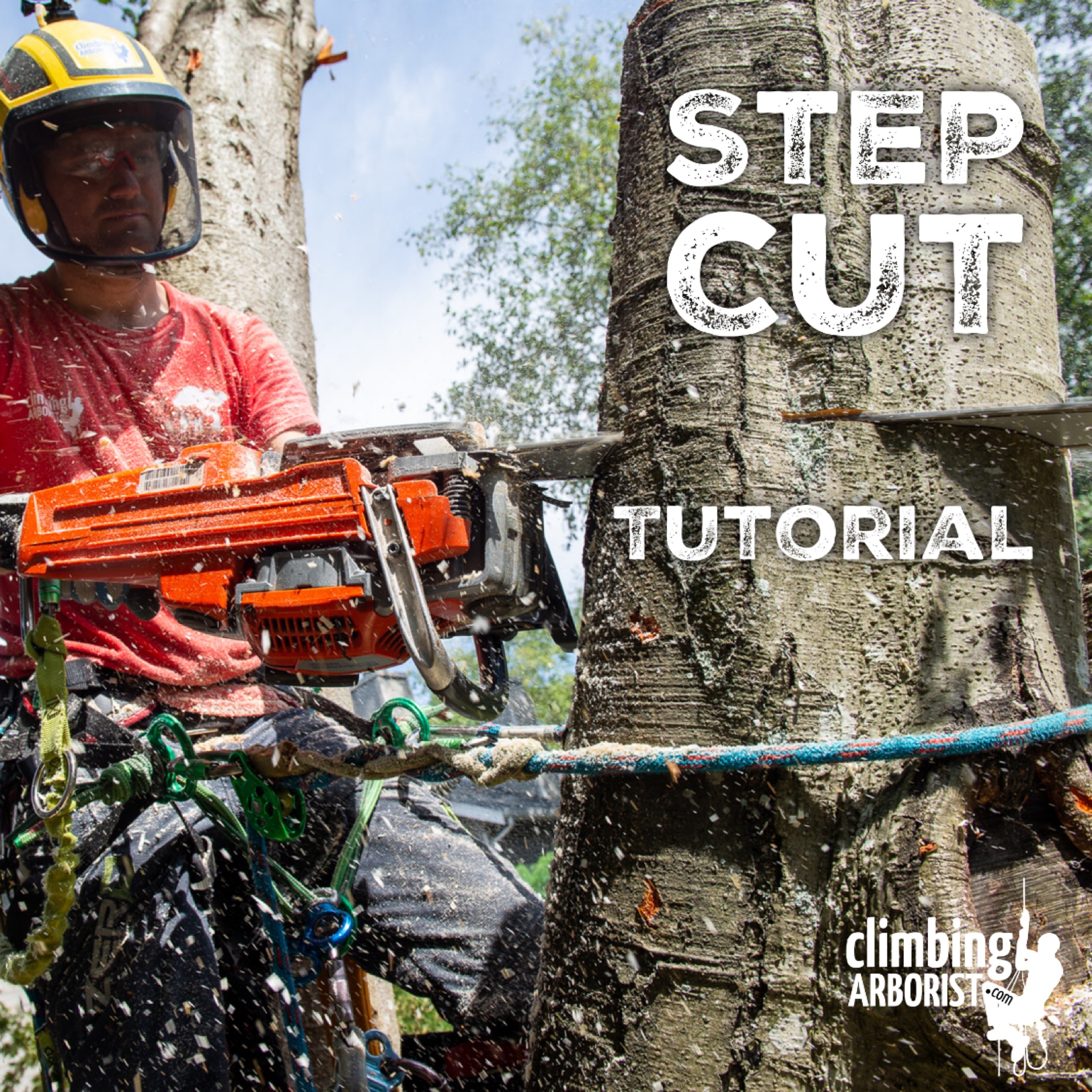 Speedline over house, Drone, Chainsaws = Super fun Cedar tree removal
Description
This was a super interesting and really fun job! We had set this job up to make it as easy and efficient as possible by using a large disposal bin and rigging all of the big, heavy wood into it. This meant that we didn't have to handle any of the big sections of wood. We minimized cleanup, especially by not making an excessive about of sawdust.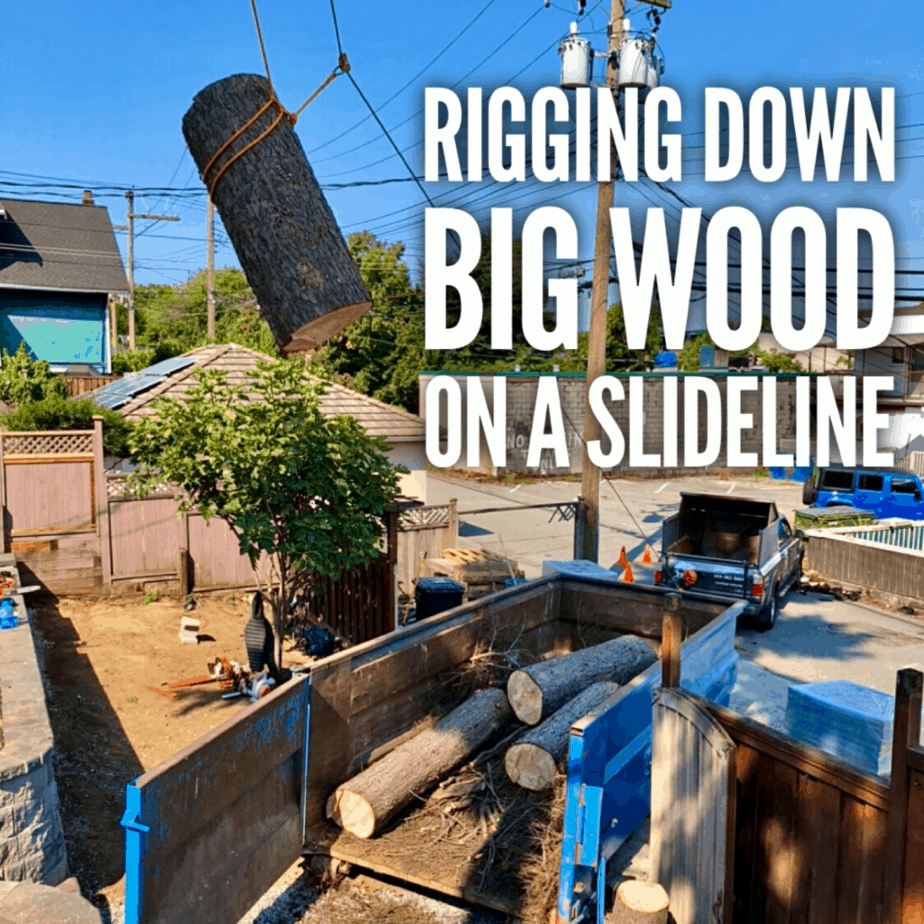 A huge learning experience removing this large Cottonwood with a crane
Description
As arborists we must continue to learn and improve from every experience we have, and this job was certainly a learning experience. Dan was the climber for this job, he has removed in the region of 20-30 trees using a crane over the span of a 17 year career. Dan explains the dangers and the goals of removing large sections with a crane, but it certainly doesn't always go perfectly. Crane jobs can be a huge amount of fun and very easy for the climber, but they can also be extremely dangerous if the climber is not familiar and educated in how to tackle crane work. We recommend if you get the chance, attend a crane removal field day workshop if you think you will take on these kind of jobs. Using a specifically made Crane sling kit is imperative, it makes tying the slings, balancing, and knowing the capabilities of the slings very easy. The slings I use in this video is a specially made kit fro Wesspur tree equipment that meets all required lifting operations safety standards, to check out the kit on their website click this link http://bit.ly/2tklCiR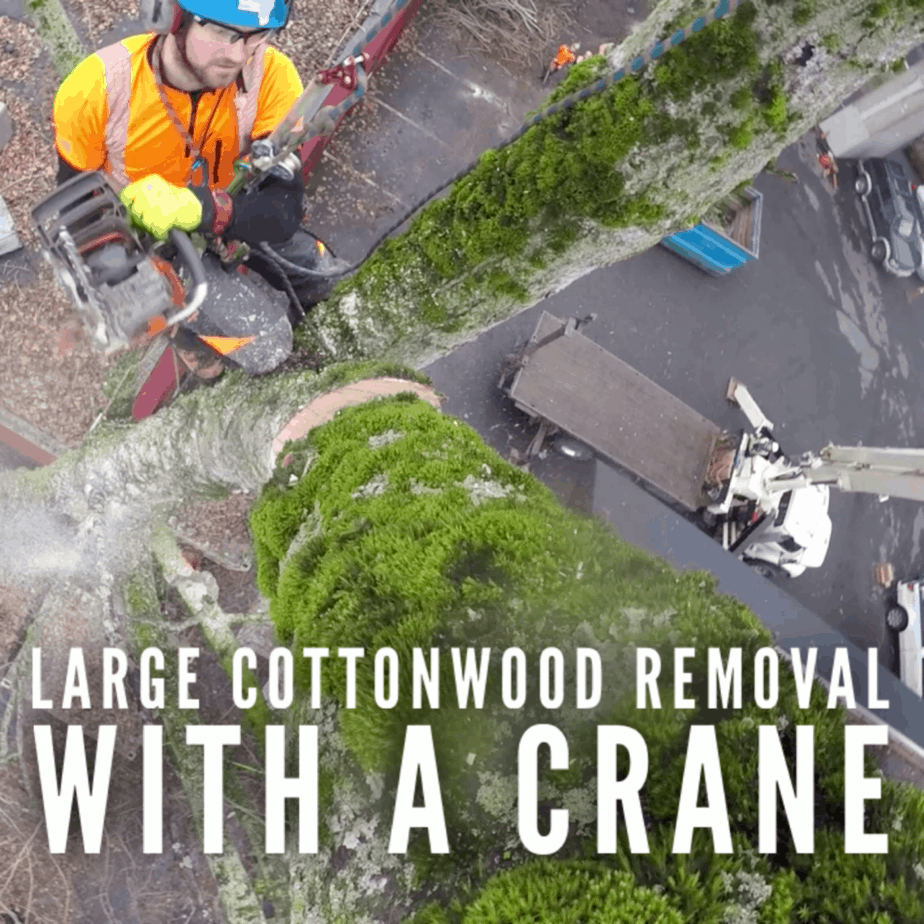 Speedline over house, Drone, Chainsaws = Super fun Cedar tree removal
Description
This was a super fun Western red Cedar tree removal job. We set up a speed line to rig down all the branches over the house to save energy and time. We then blocked down the upper two thirds of the main trunk, and finally felled the bottom 25-30 foot of main trunk. This job ran super smoothly with great, clear communication, understanding of the job and a great rigging setup. We are stoked to have captured this entire job using a drone and 4 GoPro cameras. If you like the video and want to see more like this, subscribe to our channel and click the notification bell next to the subscribe button to be notified each time we upload new content. Feel free to comment below.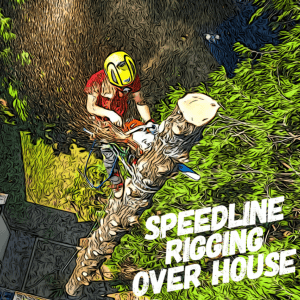 How we remove a tree #3 : The fundamentals

Description:
Dan and Ryan take on this simple Katsura tree removal. The tree is fairly close the the buildings on the south side, over the tope of gardens and fences. On the north side is a large open grassed area that is perfect for a drop zone.
Dan talks through his plan and and his processes as he works through this removal using the basic fundamentals for removing a tree.
Dan explains why in most cases the lower branches should be removed first and the arborist works up removing the canopy. He also explains how you can maximize efficiency when using your second tie in point by thinking ahead about how branches can be reached a specific 2nd tie in point.
In this video you will see the good work positioning which prevent the climber from straining and using tools at full stretch, but instead the handsaw and chainsaw are used in a position of full control and strength.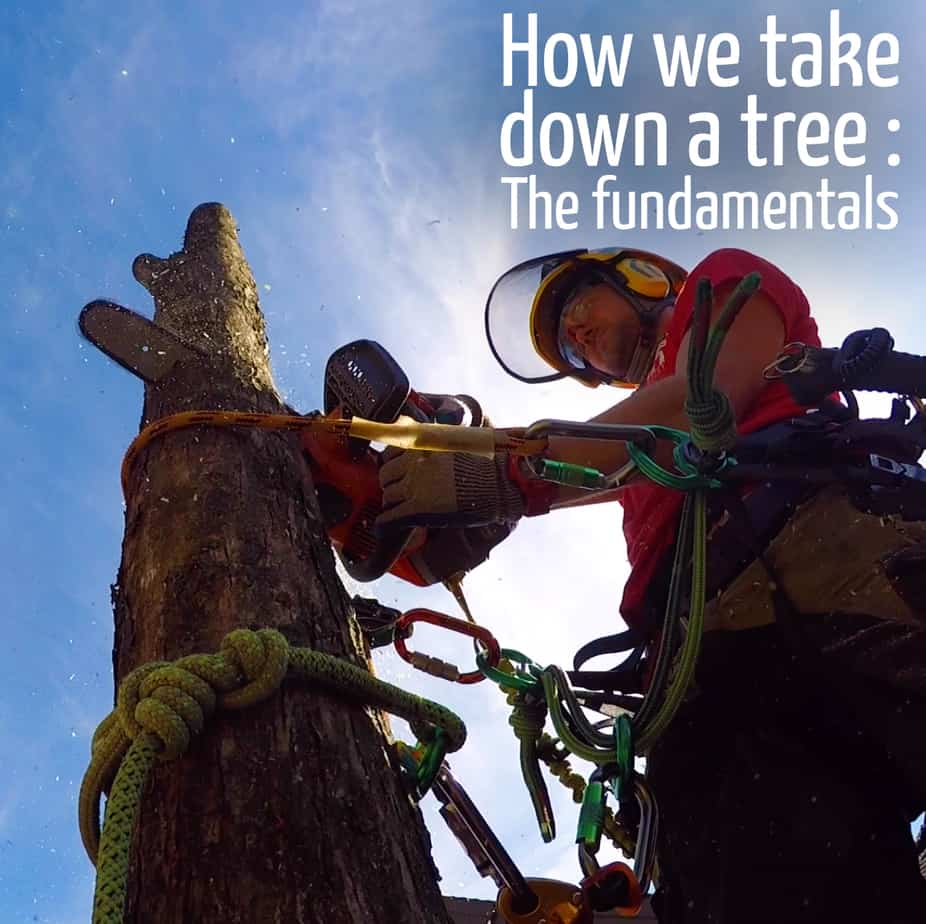 How we take down a tree #2 - Birch tree removal
Description
Justin and Dan remove this Birch tree that is riddled with 'Bronze Birch borer'. This is a very simple and straight forward tree removal job for two men. The guys do some simple light rigging of branches over the hedge to prevent damage and into neighbour's garden. The client's garden has soil around the base of the trunk and lawn for the majority of the front garden. Justin drops many branches into the clients front garden which are left in situ to absorb some of the impact from logs that will be dropped when blocking the trunk down in small sections.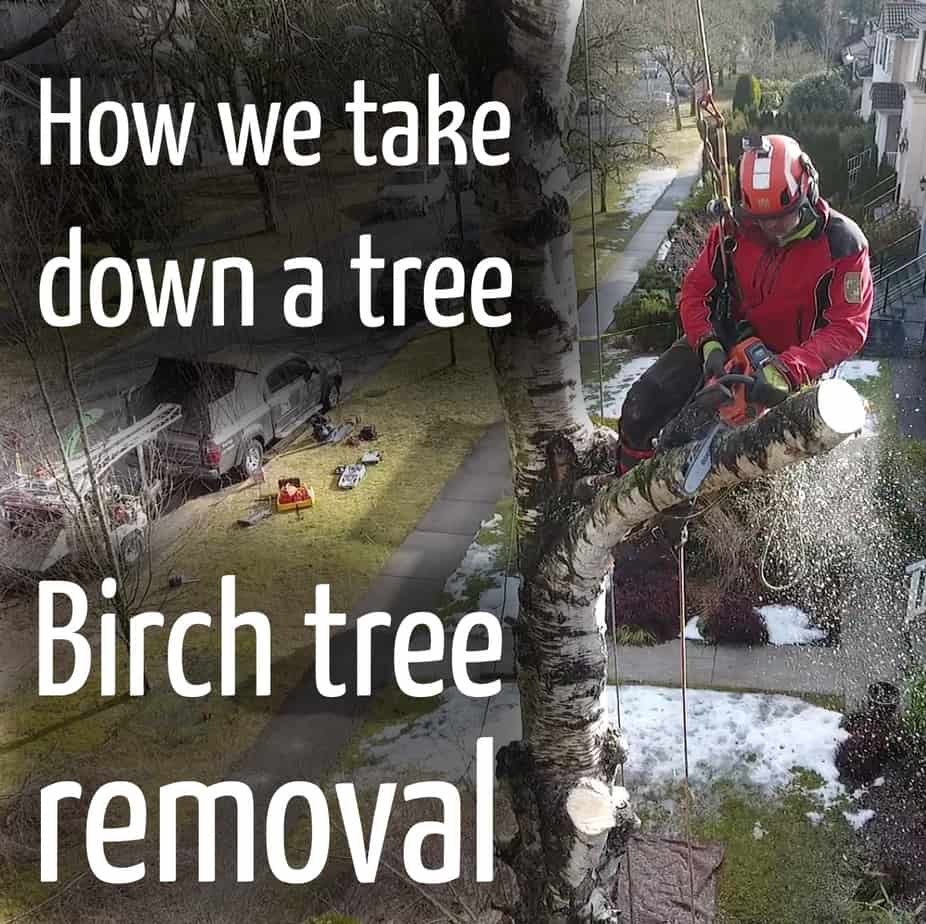 How we remove this tree #1 - Douglas Fir tree removal using a basic speedline setup

Description:
In this video we explain how we take down a Douglas Fir tree close to a house. We explain our thought process for using a very basic speed line setup, why we base anchor the speed line , and then explain why the branches are removed in a certain sequence to enable the speed line to work in the best way. Every single tree presents different problems, has different objects to avoid in its own unique landscape. There are many different ways to take down a tree, we always try to focus on efficiency, and we like to share our thought process with you.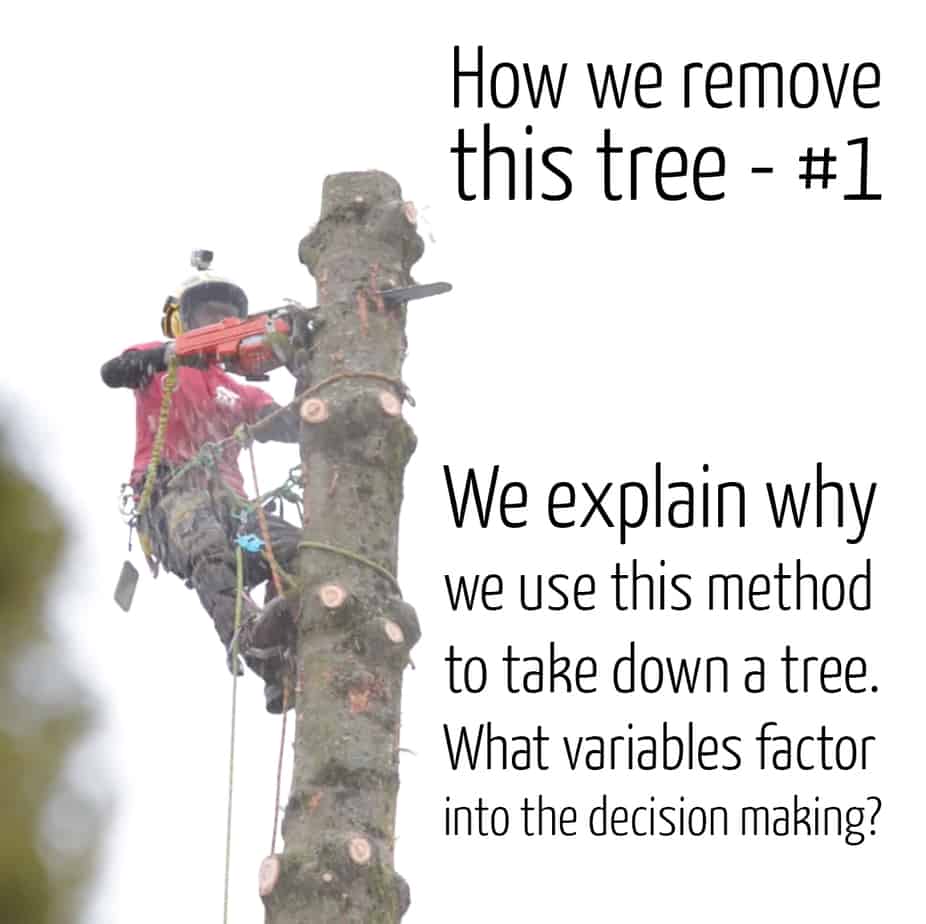 Spruce tree crane removal between houses - Crane work makes for efficient work!!!

Description:
For this job we decided to use a crane to remove this Spruce tree, and drop the branches and trunk into a 30 yard disposal bin. In this particular instance a crane made the most sense, it would mean safe, efficient removal of the tree, remove the heavy and hard manual labour of removing the branches and trunk up the stairs, and it would ultimately be a fun day that kept spirits high, plus there would be no real clean up to do.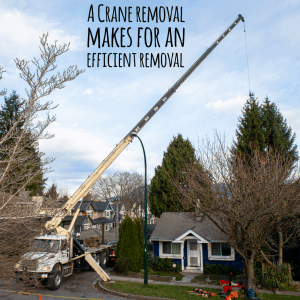 Large Douglas fir tree removal Good communication is key

This is a short film of a residential clients property with a large dead Douglas Fir tree that is to be removed. This highlights the ease of communication between the crew on site via the use of Sena bluetooth communication headsets that are built into the helmets we wear on a daily basis.
Good communication is paramount within arboriculture. This video demonstrates how clear lines of communication can create a safer work environment, how much more efficient the site can operate, with less stress and frustration from shouting, and you can have some banter all at the same time!!
Follow the link to get the Sena bluetooth headsets we use for communication in this video;
Single unit pack https://amzn.to/2Gw8SdR
Dual unit pack (older version) https://amzn.to/2Gnakz0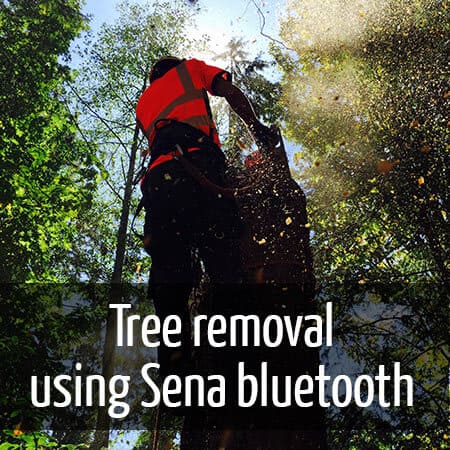 Husqvarna T536Li XP | How long does the battery last?

Description:
Dan removes 2 smallish Cherry trees, chunking them down in 14 inch pieces making a lot of cuts to test how long 1 battery will last in this specific application.
Every tree and every job will have varying factors on the life of the battery, e.g. How hard is the wood to cut through? How many cuts are you making? What are the size of the cuts you are making?
No tree job is the same but this video is to give you an idea of how the saw and battery perform.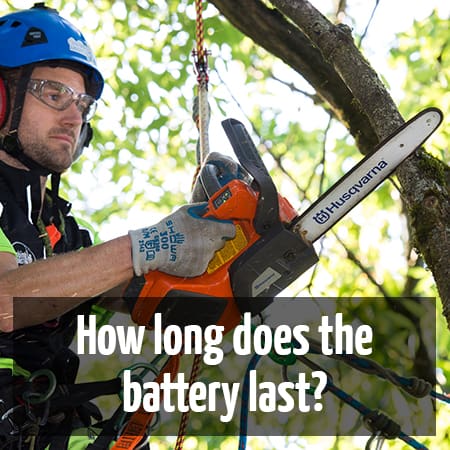 Simple rigging on a Fir tree dismantle
Description:
Dan is called in to prune a Robinia pseudoacacia tree, with the aim of reducing the tree so that it can be maintained on a 3-4 yearly cycle. Due to the small rear garden and limited space, the goal is to never let the tree get larger than it is prior to pruning.
Dan explains his plan and approach to the pruning work, you will see the choices he makes as he prunes the tree, and finally Dan will revisits the property 1 year on to see the results and response from the tree.
Revisiting trees that we prune is such a valuable learning tool for any arborist. We get to see how different species react to different types of pruning, and we can then use this knowledge for future pruning.
We hope to compile more and more of this type of video in which we revisit the property and discuss the response from the tree.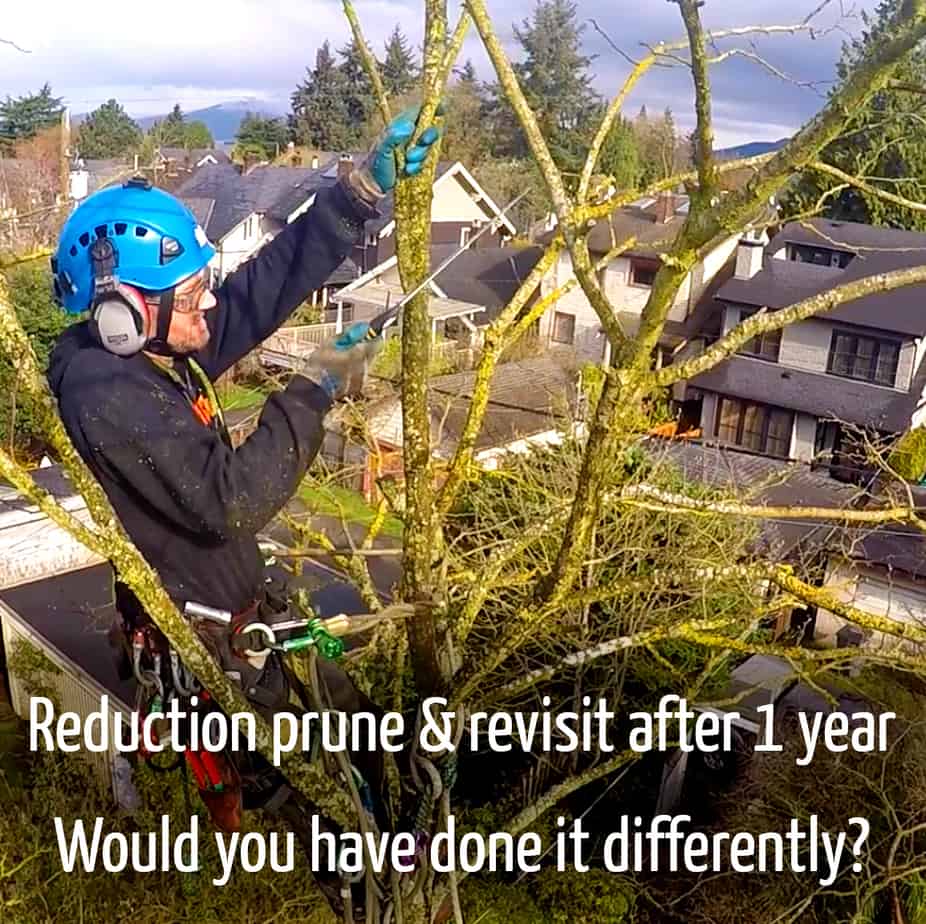 Simple rigging on a Fir tree dismantle
Description:
We were contracted in to remove two Western Hemlock trees from the rear/side of a house. The access down the side of the house was very tight, so we decided the best method and most efficient way for the removal of the trees was to use a controlled speed line/slide line for both the branches and for the trunk wood. The slideline was back tied to ensure each individual tree wasn't exposed to too much side loading.
Follow the link to get the Sena bluetooth headsets we use for communication in this video;
Single unit pack https://amzn.to/2Gw8SdR
Dual unit pack (older version) https://amzn.to/2Gnakz0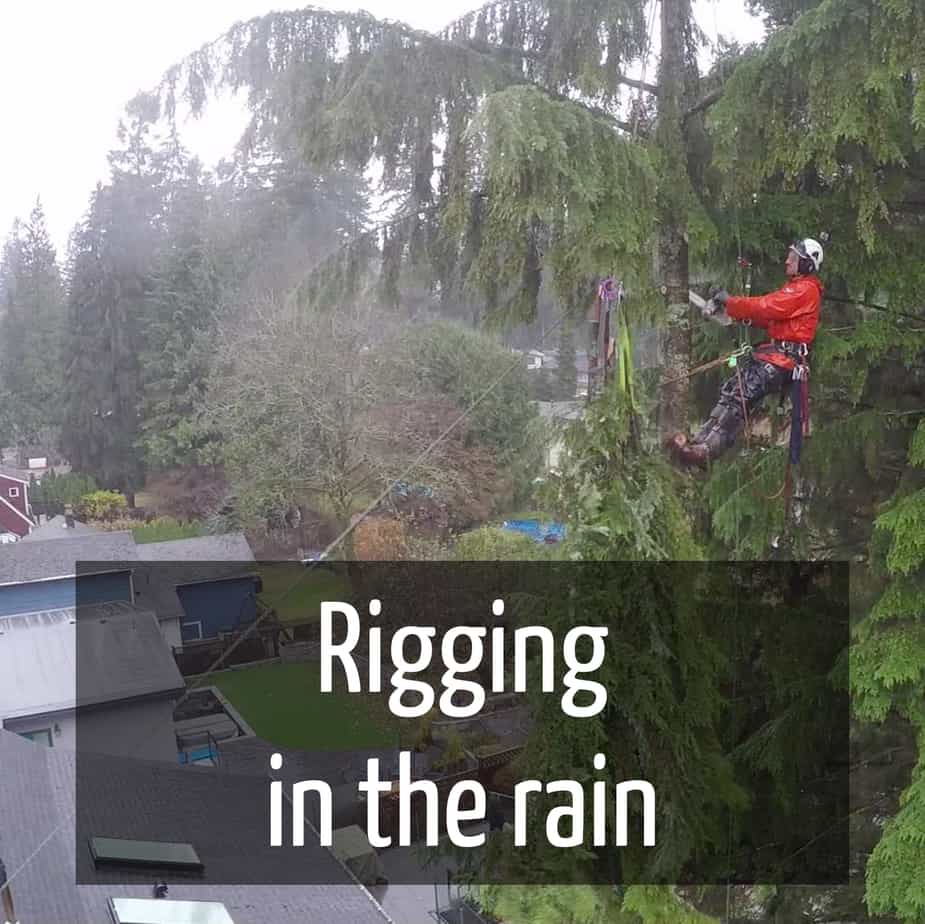 Douglas Fir tree hazard pruning on Eagle Island

Description
Dan lands a fantastic pruning job the very tiny Eagle Island in West Vancouver, B.C, Canada.
The specification for pruning was to removal all deadwood and hazardous branches.
Dan was incredibly lucky to get such beautiful weather on this cold winter day.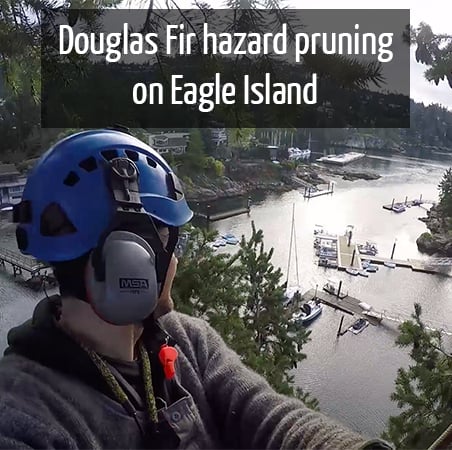 Wildlife habitat creation project

Description:
A project commissioned by BC ministry of forests, lands and natural resource operations with the intent of creating habitat for specific bird species within eastern British Columbia. A certain number of trees were on provincial land were allocated for this program.
We used 3 different techniques using different fungus depending upon the what bird species and the type of rot/decay we were hoping to achieve.
We were not using traditional, good pruning practice as we were trying to create natural tears as much as possible, for both appearance and exposure to potential fungus. Please DO NOT copy the branch removal techniques used in this video unless you are trying to achieve the same goal.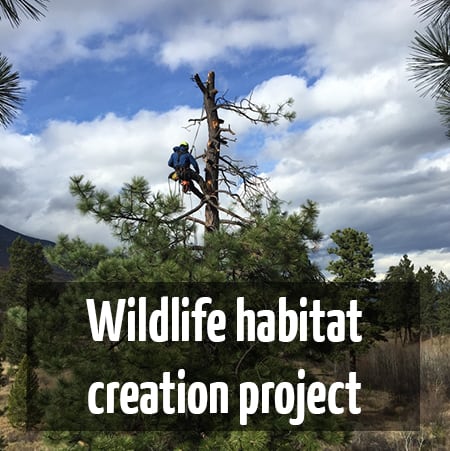 Cedar tree removal & Maple tree hazard prune

Description
Dan from ClimbingArborist.com & Grizzly Tree Experts undertakes the removal of a hazardous Western Red Cedar tree stem, and some risk management pruning on a Big leaf Maple tree with a huge amount of dead and dying wood in the canopy above a common area within the housing complex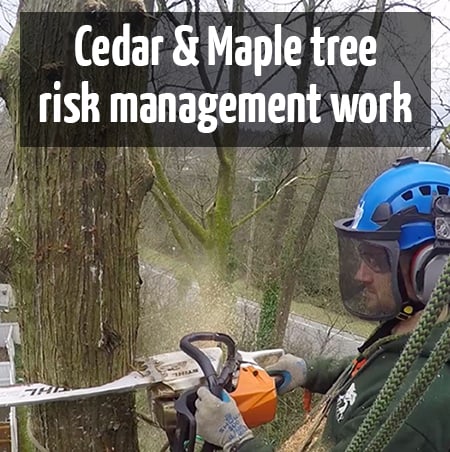 Canopy reduction tree pruning

Dan has 2 medium sized Cherry trees that the client wants reducing in size before they get to large for their location. Dan explains his thought process while undertaking this type of job, how to select a pruning location, and how to keep the tree looking natural and giving it shape.
A height and spread reduction of a tree canopy is a very important skill to have as an arborist, and one that takes time to become proficient at. Trees in the urban environment require maintenance in order to keep the for many years to come without them causing various potential problems, reducing the canopy is one type of tree pruning that can be used if done correctly.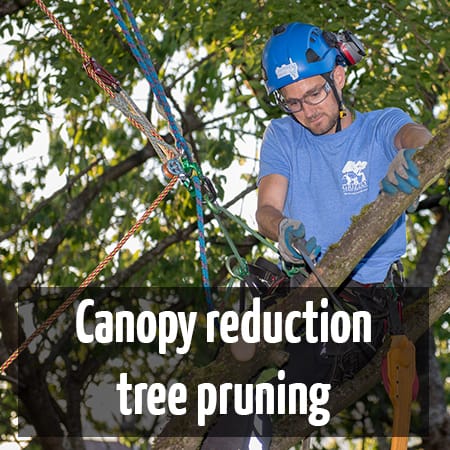 Pruning with the V-rig system

A short film of a Sweet Chestnut tree that we had to prune to remove the deadwood, prune back from the property and lightly thin the canopy. A really good tree to setup a V-rig system for excellent work positioning.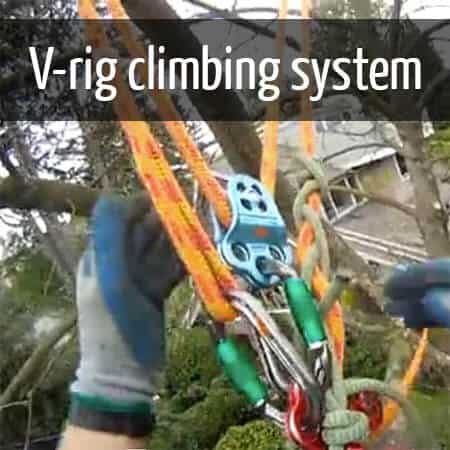 Husqvarna T536Li XP | How long does the battery last?

Description:
This job started out with the aim of finding a broken water pipe, best guess was it had broken at the exit from the building. After being unable to find the pipe, we moved on to plan B, this was to dig a trench along side the building and the down the garden between the trees for laying a new water line to the guest house at the bottom of the property. The airspade was extremely useful for this specific work, as we had to remove much of the small fibrous roots, but wanted to leave as much intact as was feasible. The excavation that was done with the Airspade was necessary, and made it as easy as it could have been. Using another method for excavation would have meant much more damage to the tree roots.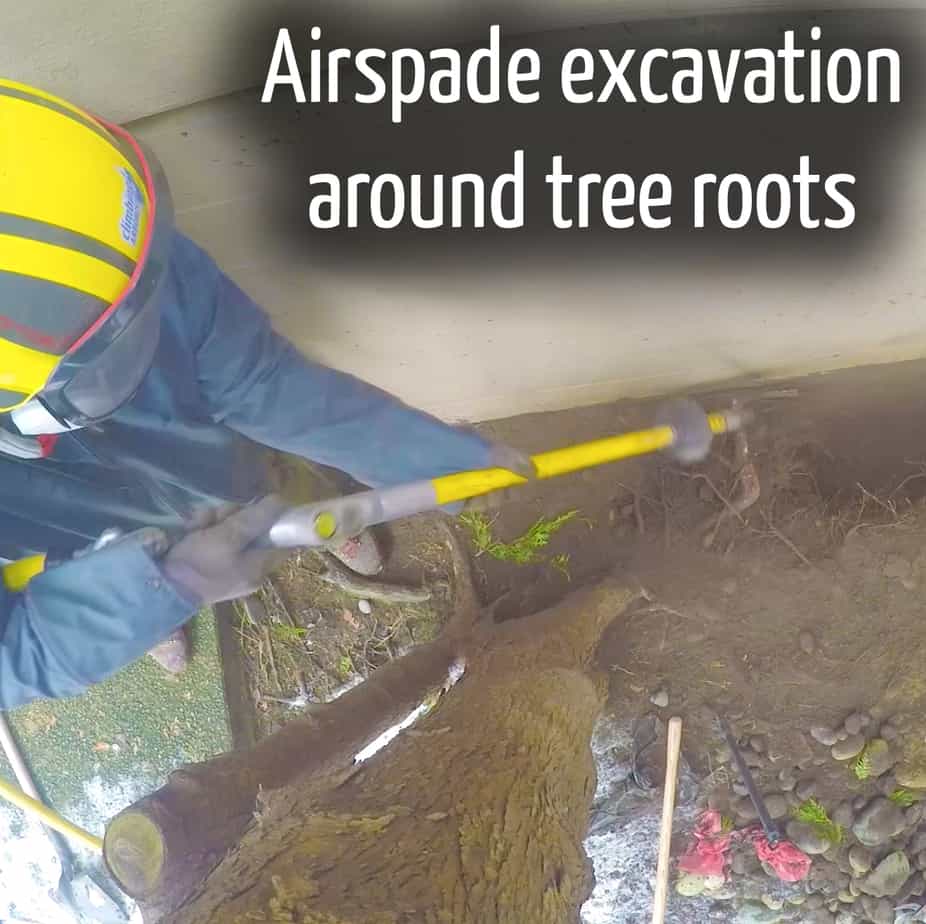 2 Hemlock tree removals in the sun & snow

Description
Join Dan on a glorious Winters day out in western Canada soaking up the sunshine with snow on the ground. Dan is tasked with 2 Western Hemlock trees to remove, 1 live and 1 very nearly dead. The job is to get the trees down safely and leave all debris on site (which is nice). There are a few things to avoid (house and power lines) so we decided to bring the trees down the safe way, in small pieces.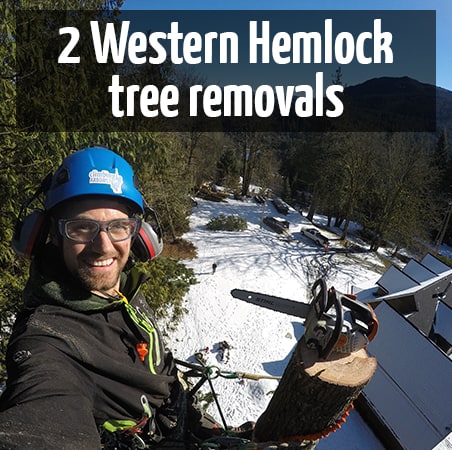 Cedrus deodara tree removal & milling the trunk w/ Alaskan mill

Description
Dan had this horrendous looking, small but chunky Cedrus deodara tree to remove. There was nothing complicated about taking the tree down, but I thought it would be interesting to show the process of milling up the trunk into slabs on site. I slabbed the wood into 2 1/2 inch thick slabs for the bottom section of the trunk, and then milled some thinner pieces to 1 " thick to make some planter boxes.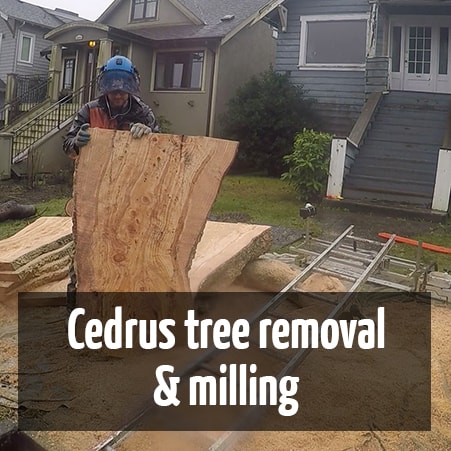 Simple rigging on a Fir tree dismantle

Description:
Dan from Grizzly tree experts and ClimbingArborist.com shows how he goes about making a wildlife stem from a tree that is being taken down, but can be left to attract birds, insects and decay.
Good, comfortable positioning on the stem is essential when making these type of cuts. The correct grip of the chainsaw and good chainsaw handling skills are paramount when making a wildlife stem as Dan explains.....