Dan's personal arborist equipment recommendations
Here at ClimbingArbroist.com we are lucky enough to have worked with and climbed on many different pieces of equipment. We certainly haven't tried everything on the market, not even close, but from the equipment we have used, we have our standout favourites. So we thought it might be useful if we compiled a list of some of the equipment that we really like. All climbing arborists will discover their own style after a number of years, we start to figure out what equipment we like, what we feel makes life easier, we find gear that makes the techniques feel more efficient etc..... But I can guarantee that other close friends, colleagues or climbing buddies will disagree! "No, this rope is better", "This setup is quicker", "This saw has more power" etc, etc.........
What we're trying to say is, this list is the personal opinions of ClimbingArborist.com's Dan Holliday, things he would recommend to friends, colleagues, new and old arborists and everyone in between. You may well disagree and that's fine with us, but we can only make our decisions on equipment we've field tested, we will never recommend gear that we haven't used, no matter how good it is supposed to be.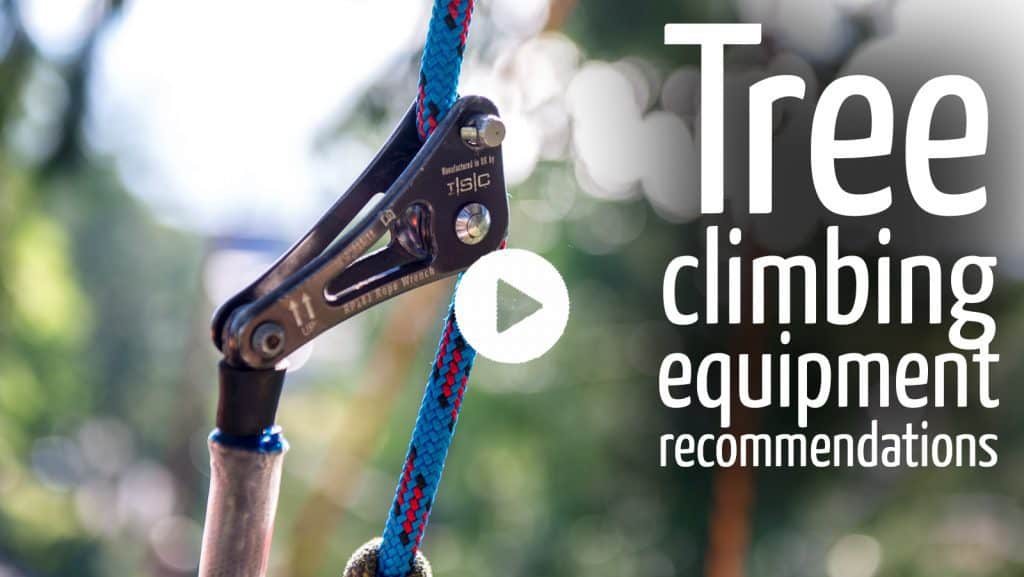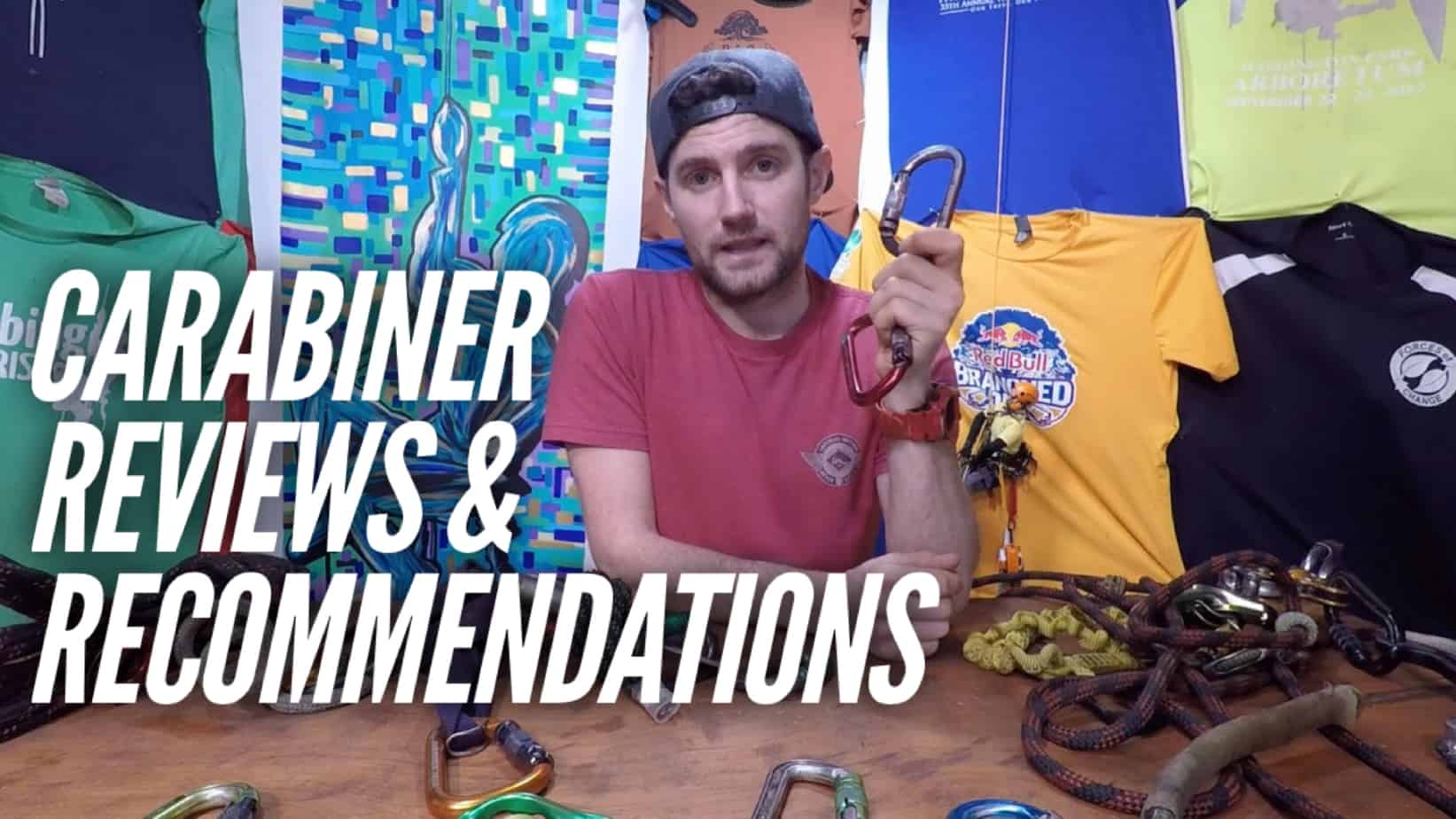 Tree climbing harness recommendation
Since 2013 I have been climbing in the Teufelberger Treemotion harness. This harness is the brainchild of those 3 very clever arborists collectively known as the 'Treemagineers'.  The research, development and testing that got this harness to where it is today must have been intense, and I personally am very thankful for their great ideas and design. This harness is lightweight, comfortable and allows the most freedom of movement and range of motion of any tree climbing harness. The harness is easily adjustable and customizable so it can be made to suit your needs down to a tee. Replaceable adjustment leg straps and bridges are available and easily replaced. The inclusion of lower D-rings on this harness is a huge factor for me in using this harness day in day out, the lower D rings allow lanyard connection that shares the load just as the bridge does, rather than putting all of the pressure into your back. The treemotion harness is the top end of the price range, but I feel if you are going to spend 5 years working in it, then it's definitely worth the cash!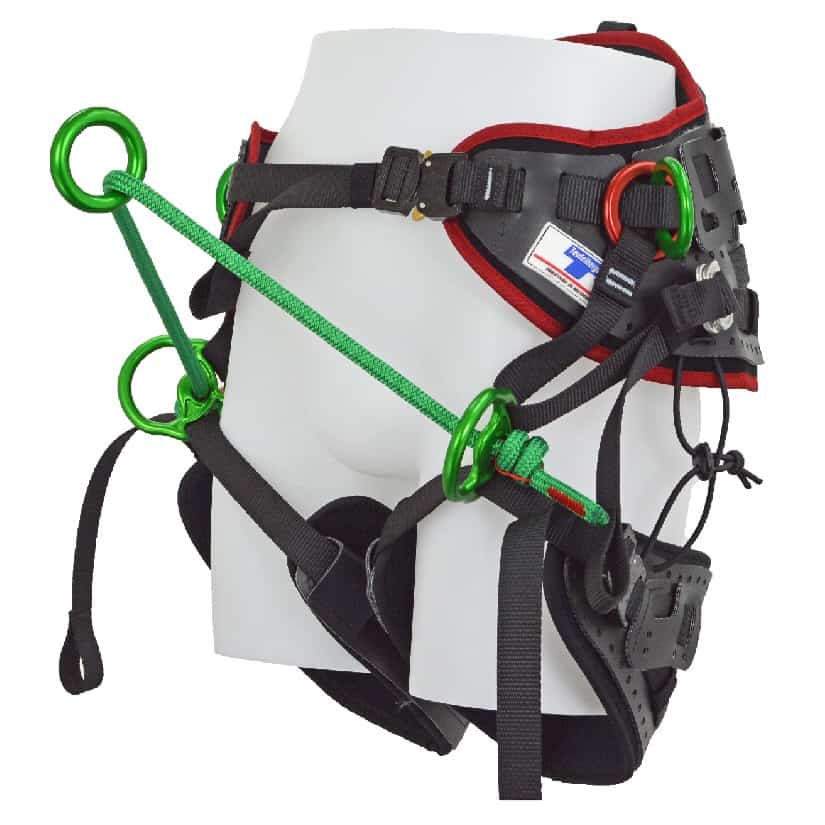 During my many years of tree climbing, I've purchased lots of different tree climbing ropes, as well as used friends and colleagues ropes. I felt this was the only way to gain knowledge of how different ropes actually feel and act and the subtleties between them. It's true that you could climb on many different ropes and do the job just fine, but when you test many different ropes, you really get the feel for the rope. You can then narrow it down to a few that really suit what it is you are looking for in your rope, and the choice can make climbing that much more enjoyable.
There are many different rope manufacturers producing a range arborist products, and each company will have a number of ropes within their arborist collection. The reason for this, is that climbing ropes have different properties, different constructions, various diameters etc. This is to give you options to select ropes to build specific climbing systems. Living on the west coast of Canada it is important to me that I have a dedicated access rope that is extremely static that I can use for accessing the canopy of very tall trees. Personally I don't like climbing around the canopy and undertaking work tasks using a very static access line, as I notice a lot more harsh feeling in my lower back as I move around. So I then have a canopy rope that I will use for all work tasks and it has the perfect amount of stretch as well as the correct diameter for the feel I want from the rope in my hand.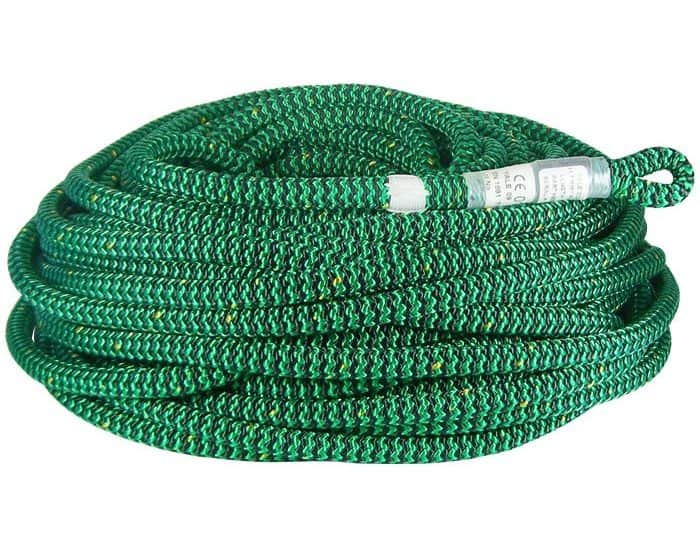 Yale 11.7mm, 24-strand, (various jacket patterns)
The rope I use more than any other is one of the 3 ropes that I have from the Yale 11.7mm, 24-strand range. I have Yale Sumac, Yale Hedera and Yale Focus. For me and my climbing style, these ropes seem to have the perfect amount of stretch, not to stiff like my access lines, but not to bouncy so that I can happily use them for SRT and DdRT climbing systems. If I could only own one climbing rope it would be one of these!!
Ropes in the 11.7mm family include; Blue moon, Poison Ivy, Sumac, Focus, Hedera, Calamine, Blue tongue, Aztec and probably a few more...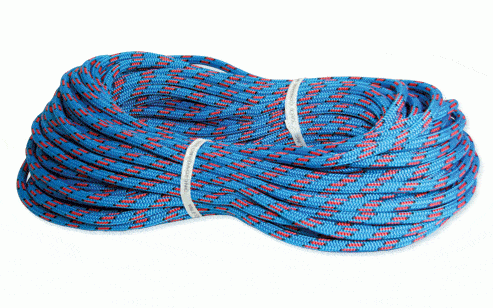 Sterling HTP 11mm Access climbing rope
Teufelberger/New England Escalator Access climbing rope
Sterling HTP and New England Escalator are two access ropes that I really like a lot. The main purpose of these ropes is to be as low stretch as possible so for long ascents into the canopy there is very minimal stretch and bounce, meaning there is less wasted energy, and more energy being transferred to your upward trajectory.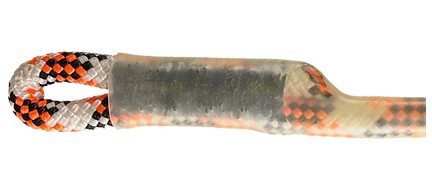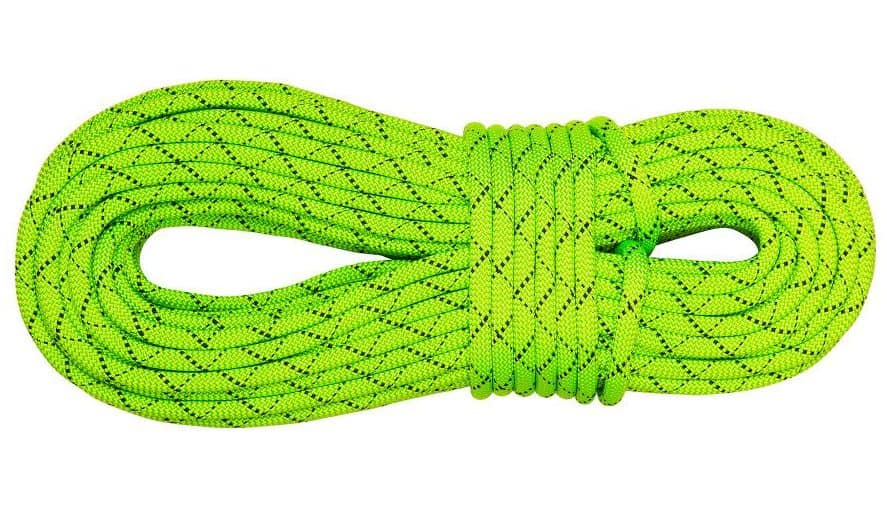 Teufelberger epiCORD 10mm
I have used many types and sizes of hitch cord in the past, and I have come to realize that I prefer the thicker diameter and softer feeling cords. The thicker diameter cords don't tend to bite/lock up to hard, and for the hitch cord, you don't want to be fighting the cord each time you come to tend it.  Each rope will react slightly differently with different types of hitch cordage, so this is more of experimentation. With the ropes I use I prefer Yale Beeline blue 10mm and Teufelberger epiCORD 10mm.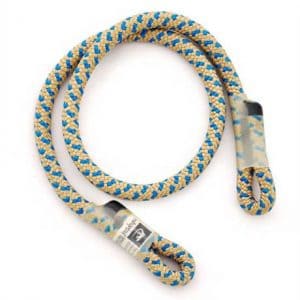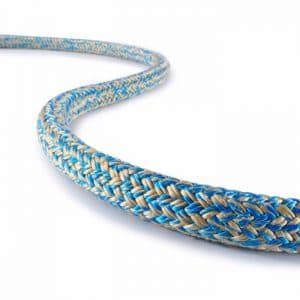 Tree climbing hardware favourites
I have many products in my climbing kit, some I use on a daily basis, and others are more specific pieces of gear that only come out for the more specialist jobs.  So what do I look for when purchasing new equipment? The main points I look for is something that will be used in, and compliment the tree climbing systems I use, the equipment that is the most efficient, or will help me become more efficient as a result of using it. I ultimately want equipment that puts the least amount of stress on my body to help me maintain strength and energy not only throughout the day, but also throughout my career, and whatever will help me keep climbing and injury free for as long as possible.
So thank you to all those innovators out there who keep pushing out their ideas for new, more efficient products int the arb market.
The rope wrench has been one of my favourite pieces of equipment since I bought one back in 2012. This revolutionized the way we climb trees as arborists, and the arb equipment industry has evolved massively because of it. I love the wrench because it allows you to work the canopy on a stationary rope system while still using the familiarity of the hitch. Allowing for easy ascents, lateral movement in the canopy and descents without the changing of equipment.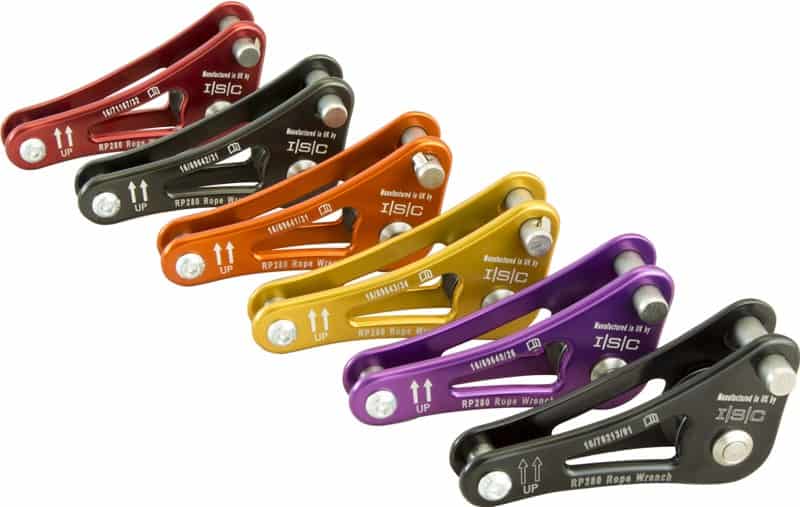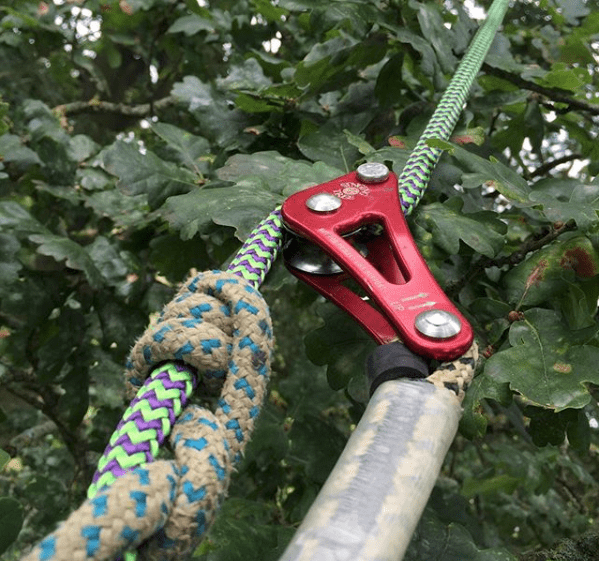 DMM triple attachment pulley
Better known as the hitch climber pulley, this is my everyday slack tending pulley for my climbing system, whether that be for SRT or DdRT climbing. The hitch climber with its 3 attachment points allows it to be more versatile than other pulleys, giving more configuration options. The rounded edge design makes it more appealing too.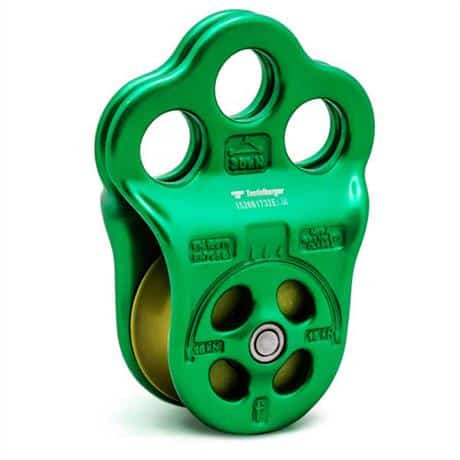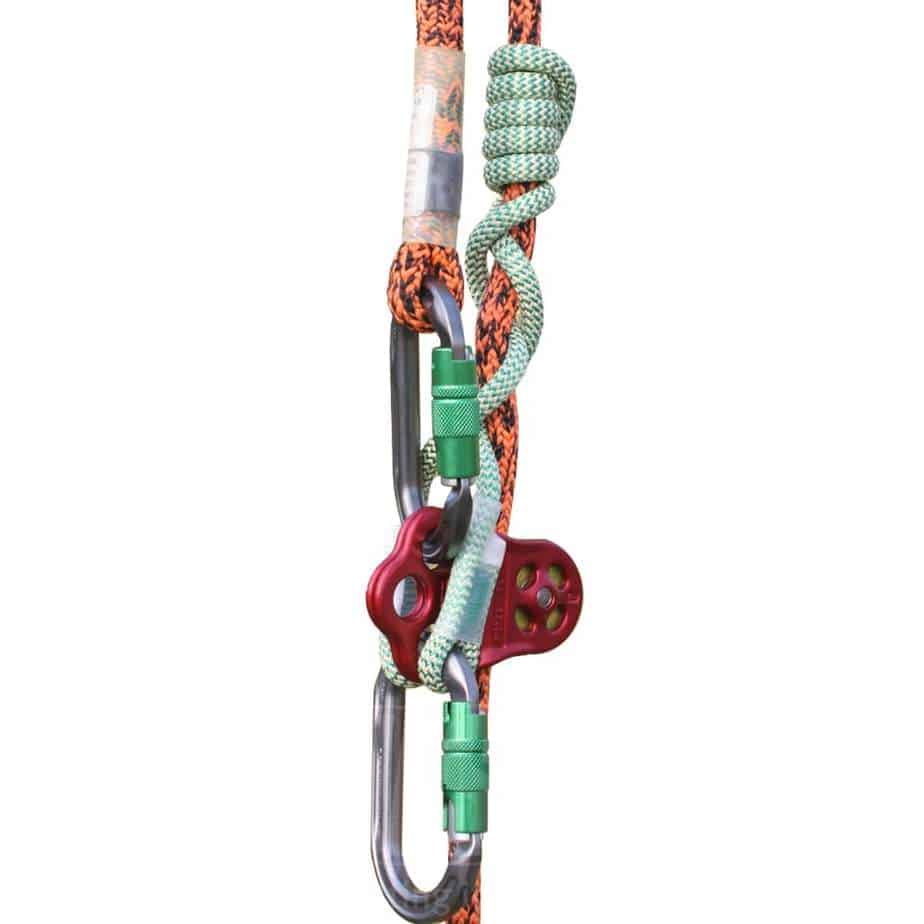 The Pinto pulley from DMM is a fantastic and versatile pulley, with great efficiency. I use this pulley on my lanyard, as well as using  another on my pulley saver, 1 is used for light rigging applications, they are great for using in mechanical advantage setups because of the option to connect another pulley to the beckit.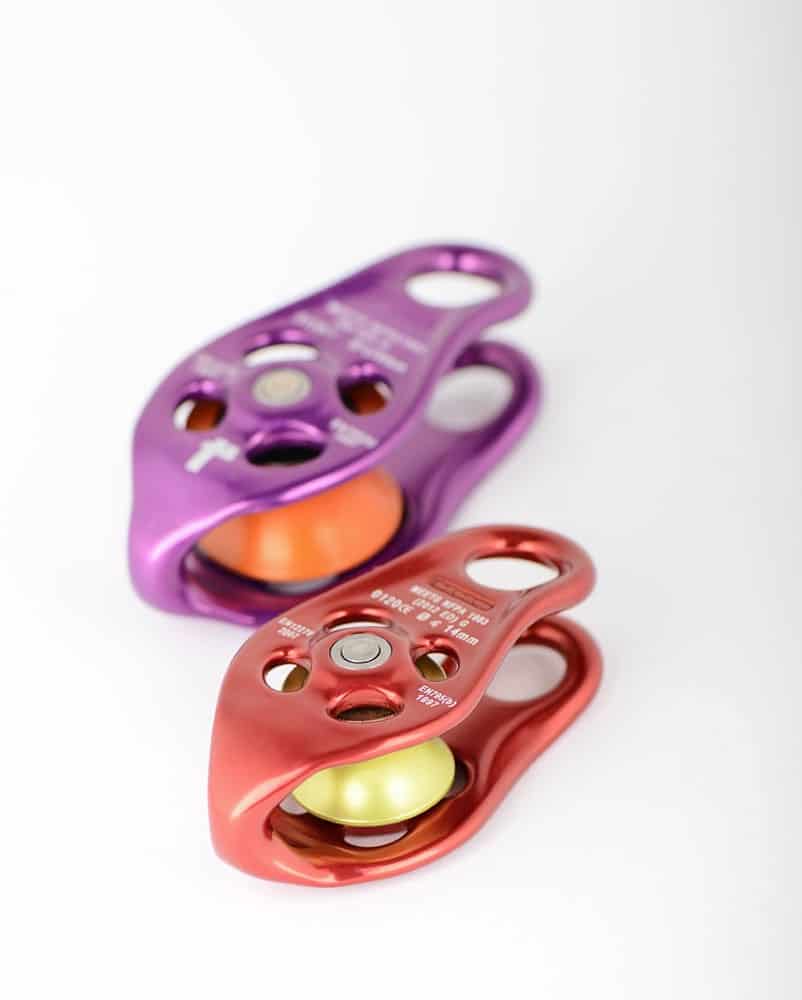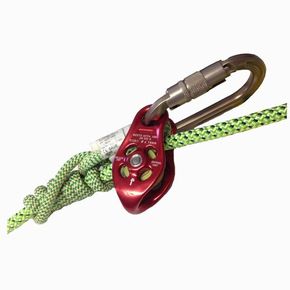 Petzl Pantin foot ascender
Foot ascenders are a must have piece of kit in modern day tree climbing, the help utilize the larges muscle to aid with climbing rather than using just your arms. The first foot ascender I ever used was the old style Pantin, which I still have and still works great. I also have the newer, smaller version which I was a little apprehensive about at first, but one I ordered the little black catch to lock the rope in, I really started to like this ascender almost as much as the old one. I haven't gone to great lengths to test all the other foot ascenders on the market, so this recommendation is because it does the job well and I have no complaints about it.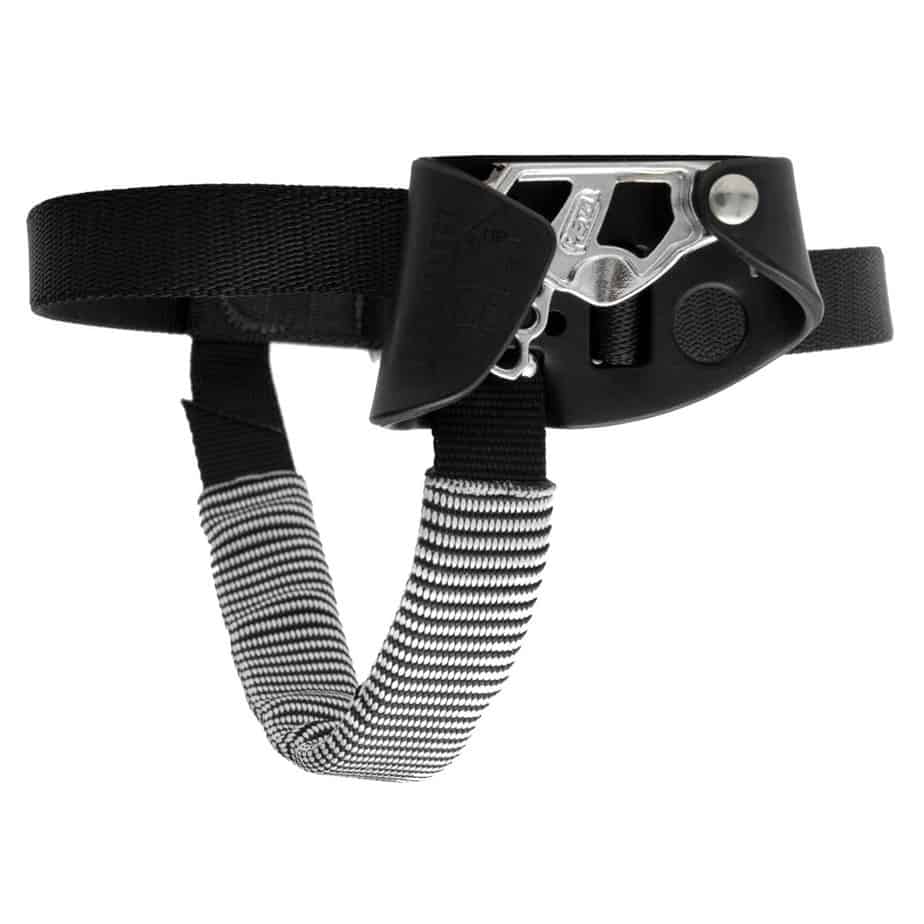 Rope bags & equipment bags
Buckingham RopePro Deluxe gear bag
This is my favourite bag for my everyday gear. The reason I love this bag so much is, I can fit a boat load of stuff in this bag (200ft rope, lanyard, harness, handsaws, secateurs, many carabiners and pulleys among other bits), I can carry it on my back leaving my two hand free for other gear, it is inexpensive in comparison to other gear bags of a similar size, and this bag has lasted me 5 years and is still going strong. One of the zips on the lid has broken, and the backpack attachment points have needed repair, but this bag is very durable, after all, it does get thrown on and off trucks everyday. I also love the fact that this bag is rigid and keeps its shape making it easy to feed your rope in and pack your kit away. What I don't understand though, is the rope hole in the lid, this hole is pointless if you climb with a stopper knot on the end of your rope.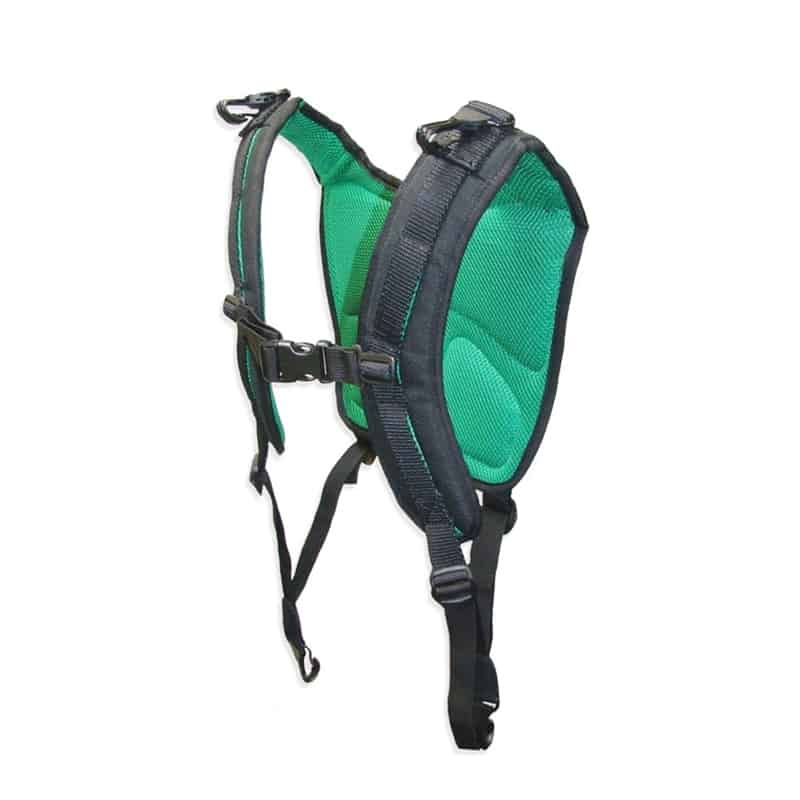 I really love my Weaver spring rope bag because of the spring loaded sides which keep the bag fully open and easy for feeding the rope back in. This bag can easily fit 150ft of rope and even 200ft of 11.7mm rope in. For a dedicated rope bag this is one of my favourites, and reasonably priced.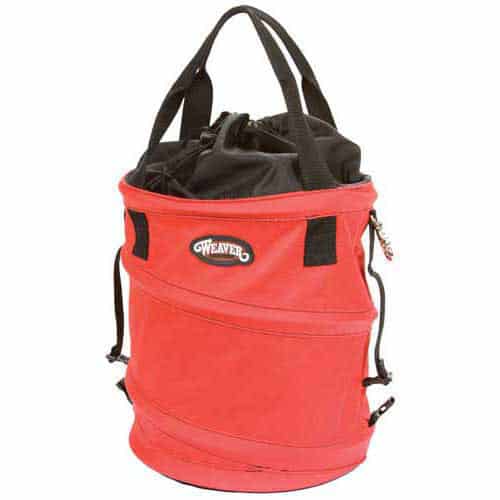 This throw cube on the face of it seems expensive, and seems like all the others. But don't be fooled, this is the holy grail of throw cubes, every other throw cube I've owned has fallen apart in 6 months to a year. The Falteimer cube on the other hand is made to the highest standard possible and will last for years and years without falling apart. This is one item not to go cheap on, BUY THE FALTEIMER CUBE!!!

Helmets are another item that has a lot to do with personal preference. We have heads of all different shapes and sizes that need protecting. So inevitably some helmets will suit some more than others. This is an item that not only will protect your head, but an item you will be wearing from the beginning of the day until the end, so it has to be as comfortable as possible.
If you look at the very top end of the helmet market, you will fin the Protos by Pfanner. It was very evident as soon as this helmet hit the shelves, that a huge amount of research and development had gone into creating this helmet. Pfanner has taken what is required for PPE for the head and integrated everything perfectly but in a different way than all other helmets that had come before it. The Helmet is very comfortable, the east muffs provide great protection and provide a good amount of pressure, the additional eye protection that can be integrated is awesome to remove issue of the glasses 'arms' going under the ear muff.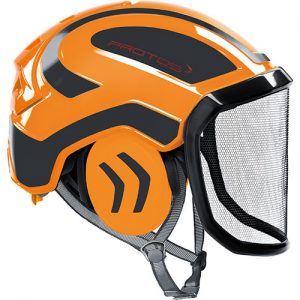 Kask Zenith / Husqvarna Spire
I Have recently been using the Husqvarna Spire helmet which is made by Kask and is the same as their Zenith model. This is a really comfortable helmet, with great adjustment, and various options to customize the helmet with vizor and preferred ear muffs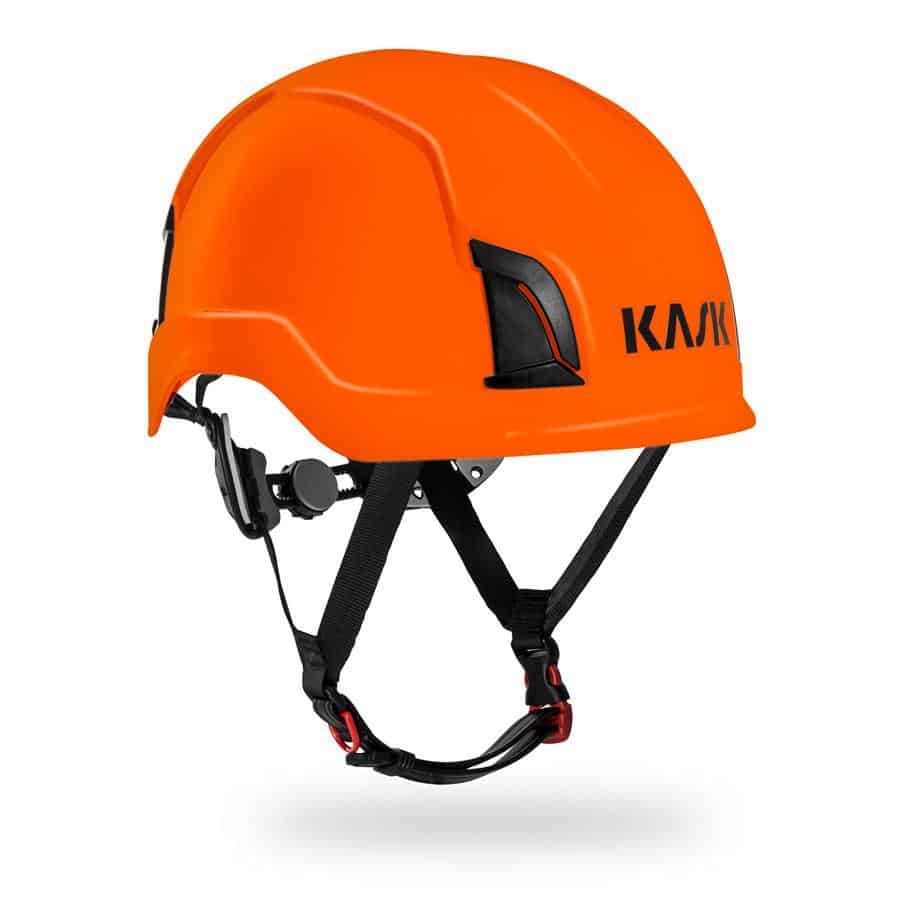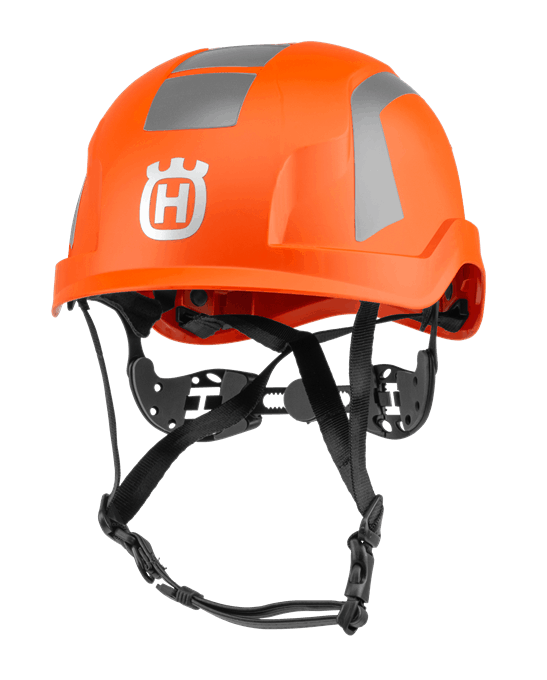 Sena SMH10R bluetooth communication system
One of the best pieces of equipment that has made a huge impact on the arb industry in the last 5 year, making the job site safer and communication better is the use of bluetooth communication systems. Whenever anybody brings up bluetooth communication in conversation with me, good luck in shutting me up about how great they are. They make communication very clear, communication can be much more detailed rather than shouting single words, it eliminates shouting which naturally reduces frustration and stress among many more advantages.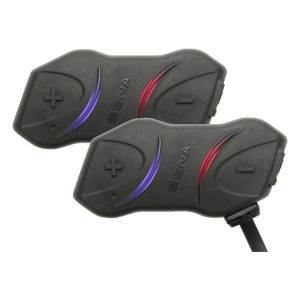 I first got a pair of Meindl Airstram boots back in 2012, before those I tried many different types of arb boots. Meindl make amazing boots for many different uses, and their arb boot is no exception. They are comfortable (or as comfortable as a work boot can be), they are waterproof which is a huge bonus when you live in an area with a wet climate. These boots are pretty robust and wear well. The only downside that I personally find is that there is very little feeling through the base of the boot as the sole is so thick. This is something I got used to over time.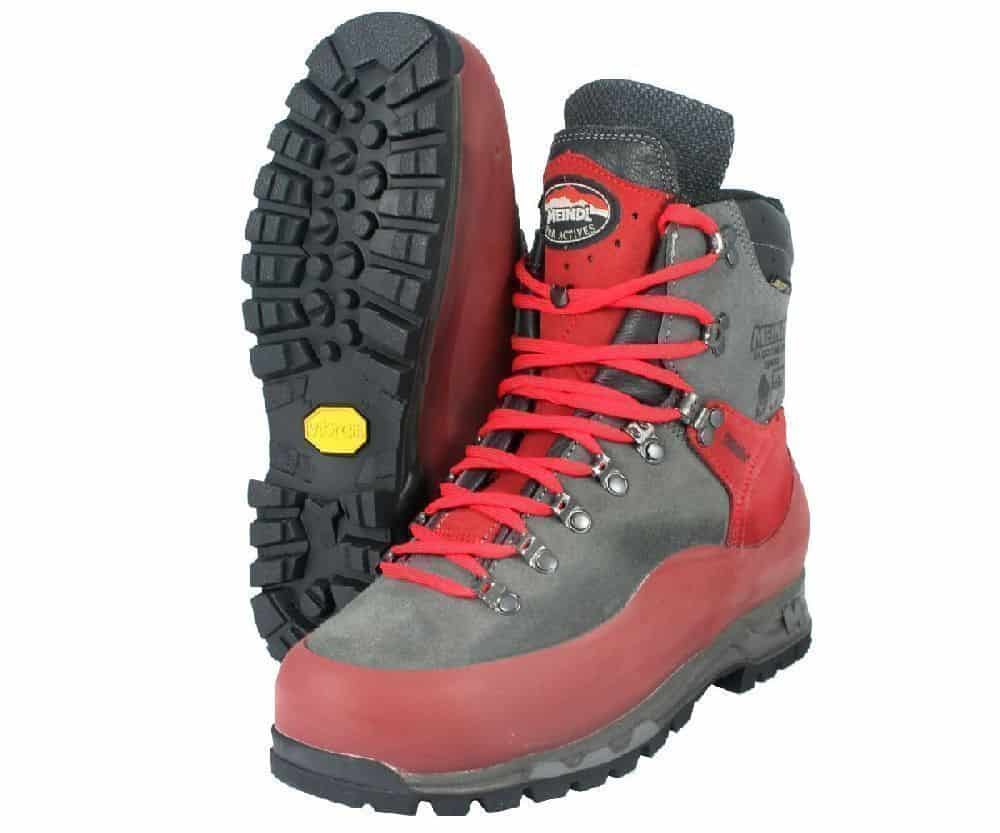 Spurs are one of the pieces of equipment that I haven't tested a wide variety of. There are quite a few brands of spurs that I hear great things about but don't have the experience to comment on. I got myself a pair of Distel Gecko spurs a few years ago from a bunch of recommendations. The spurs have velcro strap around the top of the leg, and traditional leather straps that wrap around the foot. These spurs are lightweight and comfortable which is exactly what you look for in spurs. I would say you can't go wrong if you buy a pair of these.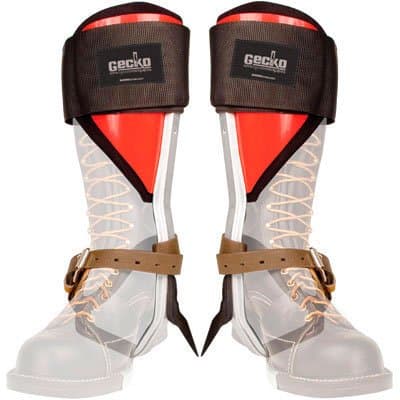 Favourite handsaws and chainsaws for climbing with
Silky Sugoi, Tsurugi curved, Zubat, Gomtaro
In all my years as an arborist, I have yet to find a handsaw that comes close to the quality of Silky saws. They make a whole range to suit many different types of pruning job. Silky saws are not only razor sharp when brand new, but the stay sharper for way longer than any other competing brand on the market.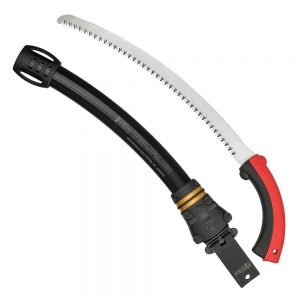 Husqvarna have really come through strong with their battery range of power tools in the last couple of years. But non are more impressive than their top handled chainsaw. Every time I use this saw, I can't quite believe how a battery can power through good size pieces of wood. I mainly use this saw for pruning jobs, it will never replace my handsaw, but this saw is nice and light so having it with me in the canopy while pruning is no big deal, and really comes in useful for those larger limbs. But the best things about using this saw are, the almost non existent vibrations, no pull cord to start, no revving or idling engine, no breathing in petrol fumes, and of course the lack of noise. I would highly recommend this saw to any arborist because the benefits are great, and it will get used much more than you might think.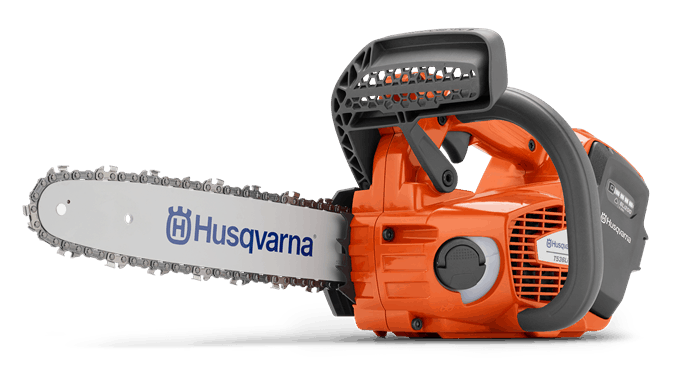 Although this saw is no longer in production, I would be doing a disservice to the industry and to this saw by not acknowledging how amazing this saw was and still is for those who have them. I still own a couple and make sure to keep them well maintained so that they last as long as possible. This saw was an updated version of the Stihl 020 which I also used in my early years as an arborist, and both these saws where pretty much the only top handled saw that any arborist worth one's salt would be seen using. It is well balanced, light (for the time it was released in comparison to other saws on the market) and has bags of power to quite happily run a 16" bar and cut wood to the full length of the bar. So the moral of this story is, if you come across one of these saws at a pawnbrokers, auction, craigslist etc... and they are not asking for its weight in gold, it's worth buying even if it needs some repairs.